Gail Greenwald, CEVG
May 28, 2014
This column is about cleantech, but let me start with a personal story. My mother died of emphysema in 2011. For the last several years of her life, she was tethered to an oxygen concentrator, an electrically powered machine that stripped nitrogen out of air and produced an oxygen-enriched flow for her to breathe. A tank of oxygen also stood in the corner of her kitchen. It filled the portable tank she used when she went out and served as backup in case of a power outage.
Without oxygen, my mother could only function for a few minutes, and she lived alone. We worried that if a power outage did occur, especially in the middle of the night, she wouldn't have enough time to get to the kitchen and switch over. Our anxiety was compounded in early 2009, when a major ice storm hit the region, causing a power outage that lasted several days and widespread tree damage, rendering roads impassable. With no other recourse, she spent several days in the hospital. In the aftermath, we persuaded her to install a backup generator, a very costly investment.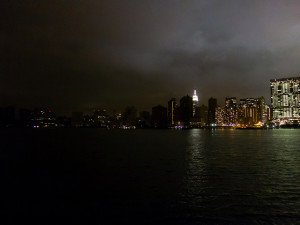 According to Climate Central, weather-related power outages have doubled in the past decade. These outages aren't cheap; the annual cost to Americans ranges between $20 billion and $55 billion. As the number of extreme weather events continues to rise due to climate change, we can surely expect the number of outages to increase as well.
For most of us, power outages are inconvenient. For people like my mother, they are life threatening.
When I was invited to write about a major pain point in the world of cleantech, I was sorely tempted to rail against the poisonous political climate and dysfunctional government that has, so far, done little or nothing to address climate change. That is certainly the major pain point in my world as a Boston-area angel investor, but the topic receives plenty of attention from others more qualified than I.
Instead, I decided to focus on a topic of interest for me personally and for the cleantech investment community in which I participate. That topic is energy storage.
Our cleantech future will be paced to a large extent by critical needs for energy storage. At grid scale, the growth of wind and solar power generation introduces the problem of intermittency: Power is generated only when the wind is blowing or the sun is shining. That energy must be either used or stored. If it is not needed at that moment and storage capacity is not available, it is lost.
As renewables become a larger fraction of our energy mix, the need for energy storage capacity increases. According to the Department of Energy, the US now has about 25 Gigawatts of available grid storage, only about 2 percent  of our generating capacity. The vast majority of this is pumped hydro, but as a number of other technologies are being developed and deployed, costs are coming down. My cleantech investment group was fortunate to make an early investment in one of these technologies. In general, however, they are too large and require too much capital for angel investors.
Predictive analytics and intelligent control systems also offer the promise for better demand side management, an approach that has been called virtual storage. We are also fortunate to have interesting investments in this area, and we are following with interest the progress of a host of new companies in this arena.
At much smaller scale, though, there is much to do to develop economically viable residential energy storage systems to further optimize our use of renewables and provide backup power when needed. In America, we are starting to see the introduction of home energy-storage systems to complement the enormous growth in residential solar installations—but they are very expensive.
In developing countries, solar-powered microgrids with battery-based storage are providing light and power in poor villages that previously had no—or very sporadic—access to electricity. The potential for microgrids to help these countries "leapfrog into a new energy paradigm" without grid-scale infrastructure is analogous to the cell phone phenomenon; it is a fascinating area of development.
I expect to be among the early adopters of residential energy-storage systems and will appreciate the security of having a backup power system, not to mention feeling good about using even more of the energy generated from the solar panels already on my roof. Yet, early adopters alone seldom add up to a viable business proposition or an attractive investment. So along with my colleagues in the cleantech investment community, I will be on the lookout for economically viable and reliable systems that offer the promise of wide-scale adoption.
The magnitude of the opportunity is clear. In developing countries, small-scale energy storage can be the key to dramatic improvements in quality of life. And here at home, affordable backup in a world of increasingly severe weather can also mean the difference between life and death.
Gail Greenwald is an active angel investor in the Boston area and a member of the Clean Energy Venture Group (CEVG) and the Launchpad Venture Group. In its eight-year history, CEVG has participated in over 80 rounds of investment across a portfolio of 20 companies and continues to actively evaluate a wide range of additional early stage investments in clean energy, energy efficiency, and sustainability.
https://cevg.com/wp-content/uploads/2014/03/cevg_logo_l21.png
0
0
trev
https://cevg.com/wp-content/uploads/2014/03/cevg_logo_l21.png
trev
2014-05-28 12:00:36
2015-01-06 07:11:28
The Urgency of Energy Storage: An Angel Investor's Perspective